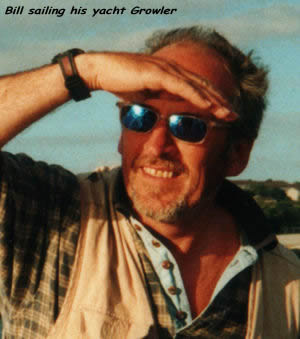 Born in Scotland, Bill grew up in Alexandria near Loch Lomond.He trained as a graphic designer and went into advertising in London .. got roped into doing cartoons for the odd newspaper ad and liked it.
Bill's career began drawing single cartoons for the Daily Sketch, Daily Mirror and The Sun (in that order). .he syndicated material through PA Features and Advance Features to provincial and foreign papers Some of that syndicated material is still out there doing the rounds in Britain and around the world.
Bill joined the editorial staff of the Daily Star on its first day-November 2 1978-was with them until March 2003.
He was originally taken on to do a single -column cartoon for news and one for sport. After a few weeks the management decided the paper needed a "Giles-type cartoon"( The Daily Express- with Giles- was the Star's long-established sister paper) and Bill duly adapted to the bigger type of cartoon. And did that for them until March 2003. Bill's first shot at a Sunday paper stint was with the Sunday Scot in 1990. The paper folded after a year and the Sunday Mail took Bill on board straight away. He did weekly cartoons for them until April 2003.Originally a 5-column cartoon as in the Daily Star, his contribution now consisted of a panel of 4 single-column gags making a roundup of the week's events. The Sunday Mail work brought him the Scottish Cartoonist of the Year Award in 2001.
Bill left the Sunday Mail with fond memories and joined The Sun on April 13th 2003.
Bill lives near the sea in Cornwall with wife Sylvia and three children ( not always there) and two dogs ( likewise). A keen but disaster-prone racing yachtsman and snowboarder, he provides a good source of cartoon material for other people.
Now riding a motorbike..take care everybody
Copyright © Cartoon World Ltd 2001/02 /03 /04/ 05/06